Hospitality • Discovery • Generosity
The Center for Spiritual and Religious Life (formerly the Office of the University Chaplain and Religious Life) nurtures a community of communities where students, faculty, and staff are invited to experience hospitality, to engage in discovery, and to practice generosity.  Whether you are enjoying a cup of coffee and conversation with a chaplain in our Fireside Lounge, or participating in one of the ×ÔοÊÓƵ Interfaith Council's Dialogue Dinners, or joining community members by rolling up your sleeves for some hands-on service on MLK Day, at CSRL you will find a place to belong and feel connected to community.
We are committed to asking, engaging, and seeking to answer the big, meaningful questions in life—questions of IDENTITY, PLACE, and PURPOSE:
Identity: Who am I?
Place: Where do I belong?
Purpose: What am I supposed to do?
Through thoughtful interfaith engagement and non-sectarian reflection; vibrant campus communities that encompass diverse religious, spiritual, and secular perspectives; careful discernment and compassionate, ethical action in the world as individuals and a community; and emotional and spiritual support offered through pastoral care and community gathering, CSRL builds a community that embodies hospitality, discovery, and generosity.
FINDING US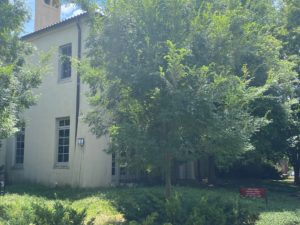 We are located on the main campus of ×ÔοÊÓƵ University, just behind Branscomb Quad and Featheringill Hall, at 401 24th Ave S.  Office hours are 8:30am to 5:00pm, Monday through Friday.  The house is behind those rare American holly trees (part of the reason our campus is a National Arboretum).  Come in for a warm welcome and conversation!
There are additional spaces dedicated to quiet reflection and prayer located throughout the ×ÔοÊÓƵ campus.
STAY INFORMED
Sign up for our monthly e-newsletter or follow us on social media.
Looking for a hospital chaplain?